Landis+Gyr donates to the 'Swiss Foundation for the Cerebral palsy child'
Zug, 15 December 2014 – Landis+Gyr, the global leader in energy management solutions donates to the 'Swiss Foundation for the cerebral palsy child'.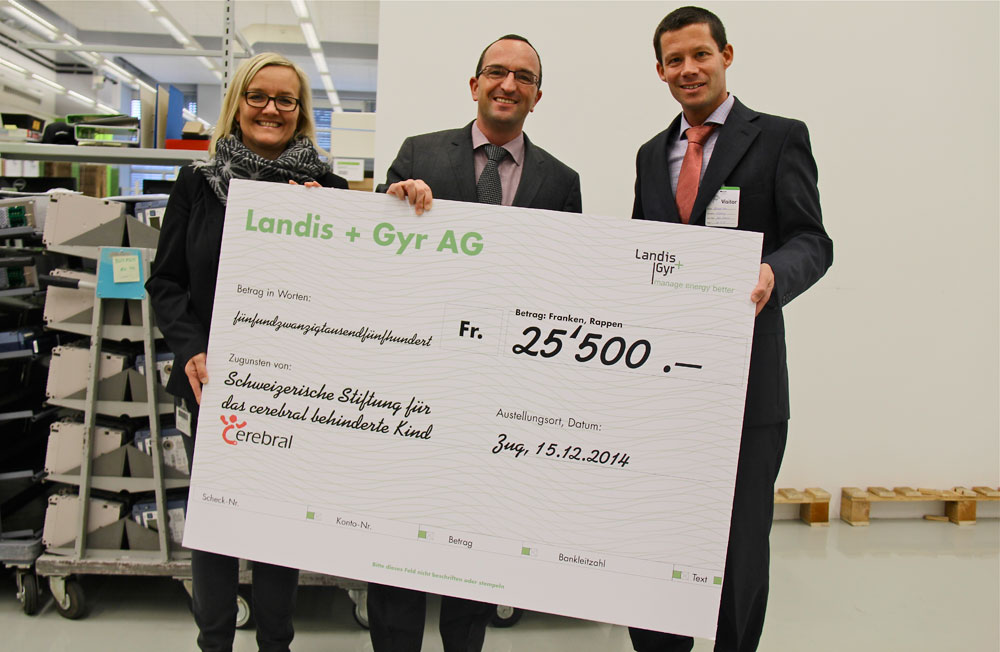 This year, many employees have once again chosen to donate their travel supplement (Mobilitätszulage). A record total sum of Swiss Francs 25,000 has been reached in 2014 and it goes to the Swiss Foundation for Children with Cerebral Palsy (Schweizerische Stiftung für das cerebral gelähmte Kind).
Employees who chose not to accept the contribution from the company have decided to support a not-for-profit organization that supports over 8,900 families and their children with cerebral palsy. The foundation has been active for many years, seeking to establish a place for those affected in society and to enable the development of a quality of life that is as high as possible. Through this work, help is provided in a way that is otherwise not available from the public authorities.
The company tradition of supporting those who suffer from a disadvantage with a charitable contribution started a couple of years ago. The company travel supplement scheme was introduced when the price of employee parking spaces at the Zug offices were doubled. Employees choosing not to take the money were invited to donate their monthly employee travel supplement to charity and name an organization they want to support by the end of the year.
With the generous donation from Landis+Gyr, the Foundation will support activities in the field of winter sports. In this project, skating rinks in the region of Zug will receive devices on which wheelchairs can be fastened securely. This allows the cerebral palsy children from the region to spend a couple of hours on the ice rink with their families and take part in this winter activity like other children for the first time.
The check handover took place on December 15th at the Landis+Gyr headquarters in Zug with Oliver Iltisberger, Executive Vice President EMEA, Susanne Egger, Head of Human Resources Switzerland, and Michael Harr from the 'Swiss Foundation for the cerebral palsy child'.